What are Neoantigen Vaccines?
Valencia Clinic of Integrative Oncology (VCOIO) partners with NextGen Oncology Group in Germany for the development of cancer vaccines based on tumor-specific peptides. Relevant clinical trials using a great variety of peptide-based vaccines have been recently reviewed.
In order to design personalized specific peptide vaccines all of a tumor's more than 20,000 genes that code proteins are examined for mutations by next-generation exome sequencing. All genetic mutations with impact on the amino acid sequence, structure and function of the proteins are then matched to an exome sequencing that has been simultaneously carried out on the blood. This leads to the identification of genetic markers that are absolutely specific to the tumor (mutated neoantigen peptides) and thus highly useful in developing a personalized vaccine. In a further step, NextGen Oncology assesses whether and if so, which part of the patient's mutation-carrying section of protein can be presented to the immune system by the individual antigen-presenting system (HLA-Haplotype) of the patient.
Exactly this section is then rebuilt (mutated neoantigen peptide). A personalized cancer vaccine usually contains a group of up to ten of such absolutely specific peptides.
The main steps of our vaccine development process and vaccine application are illustrated in the Figure below.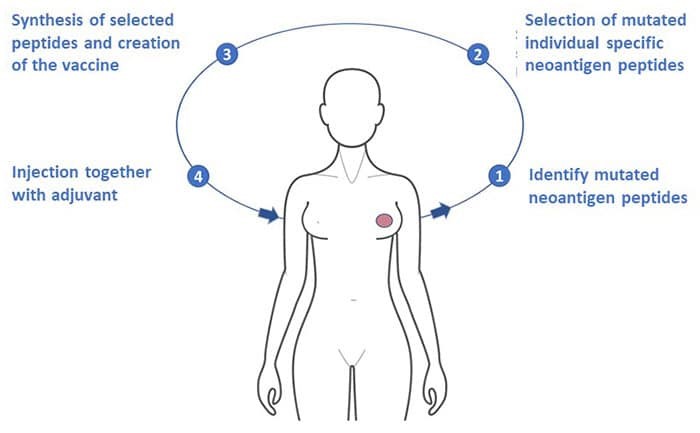 Request information without obligation
Request information without obligation, we will study your case with our medical team to give you an answer as soon as possible.